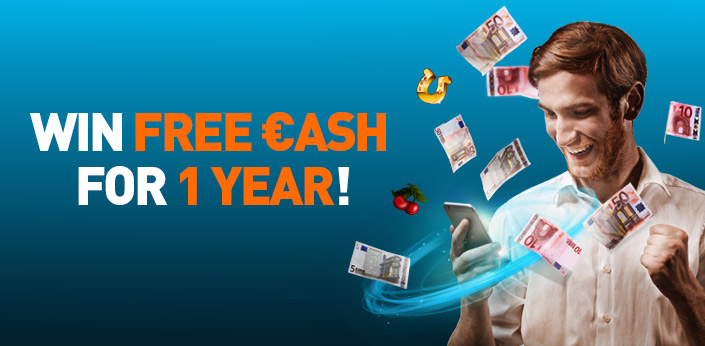 What would you do if you won free cash for 1 year? Well, you can stop dreaming and start spending as 25 lucky players will win one year free cash at 777.be! That's right – you could be the lucky winner of a free monthly balance top-up!
To qualify for this money bonanza you simply need to make a deposit on your 777.be casino account between 00:00 on 24th January and 23:59 on 31st January. Each time you do you'll receive a ticket for the special tombola. At the end of the promotion, 25 players will be drawn, and they'll be the lucky recipients of 12 monthly cash credits of up to €77 per month!
What are you waiting for? Start depositing now, and make 2017 your lucky year on 777.be!

Conditions:
– The promotion is valid from 00:00, 24/01/17 until 23:59, 31/01/17.
– To participate, and receive tombola tickets, players must deposit on the mobile or desktop casino site of 777.be.
– Each deposit counts for an additional tombola ticket.
– A player can only participate in the promotion with one unique player account. Tickets are not transferable between accounts.
– The 25 winners of the tombola will be notified via email within 72 hours following the end of the promotion and receive their first monthly top-up as a €77 bonus with a playthrough of 0.
– During the following months, winners will receive their top up within the first 3 days of the months as a €10 bonus with a playthrough of 30 times.
– Winners will remain eligible for their monthly top-up for 12 months, provided they have made at least one deposit during the prior calendar month. Winners who do not make a deposit during a given calendar month will not receive any subsequent top-ups.
– The promotion is subject to 777.be's Terms and Conditions.
– 777.be reserves the right to cancel or change this promotion at any time without prior notice.