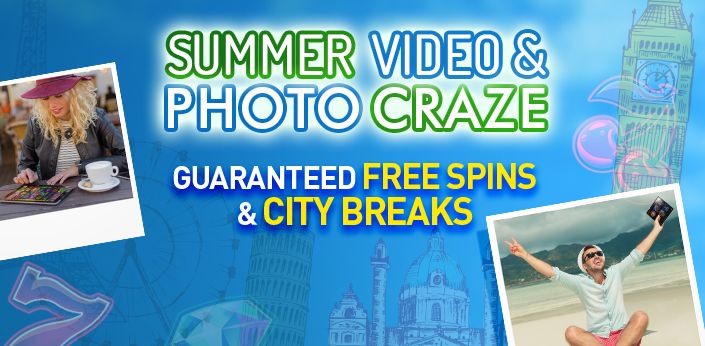 Awaken your creative side this summer by participating in 777.be's exciting Summer Video and Photo Contest, your chance to win one of 3 city trips and guaranteed Free Spins.
How to take part?
Simply send us a video or photo of you playing your favourite 777.be game in your favourite summer spot. It can be anywhere – the garden, the beach, the park or an exotic country. Create your masterpiece and simply email it to us.
Guaranteed spins
If you send us a video, minimum 5 seconds long, you'll get 25 Free Spins. If you prefer to send us a photo instead, you'll get 15 Free Spins. The choice is yours, but please keep in mind you can only participate once.
Also note this is not for the camera-shy, your amazing photos and videos will be shared on our Facebook page for all to see!
Win a city trip
This wouldn't be a contest without prizes… and WINNERS!
The 777.be photo jury will pick 3 winners, but you can increase your chances by tagging yourself in your photo or video once it's on the Facebook page and getting all your friends to like it. Each like will get you a bonus point that will be added to the jury points!
The top 3 winners will enjoy amazing city trips in Europe or Belgium:
1st: Trip worth €1,000 in Europe
2nd: Trip worth €750 in the Benelux region
3rd: Trip worth €500 in Belgium
Are you ready? You have until Sunday July 29 to send your video or photo to [email protected]. Please use the subject line "Summer Video and Photo Contest 2018", include your username in the email and we'll take care of the rest.
Now pick up your camera and join the craze at 777.be!

Conditions:
– Promotion is valid from 16/07/18 to 29/07/18
– When a video or photo is accepted, the Free Spins winnings will be credited to the player's account as a bonus within the following three days on: Jumanij. Players will automatically receive an email once their Free Spins have been credited.
– The top 3 will be contacted directly within 72 hours of the end of the promotion and prizes will be distributed as follows:
1st place: Trip worth €1,000 in Europe
2nd place: Trip worth €750 in the Benelux
3rd place: Trip worth €500 in Belgium
– The prizes will be distributed as goods or cash, not subject to a wagering requirement.
– The player and the 777.be website must be visible on the photo received
– A player can only take part once during the promotional period.
– Players can only take part with either a photo or a video.
– Any video or photo not fitting the theme of this competition will not be accepted. The same applies to offensive videos or photos or videos or photos with someone under 21. Videos must be at least 5 seconds long.
– Files must be less than 15 MB to be accepted for the contest.
– Player wishing to get extra points for likes, must tag themselves in their video or photo once we have uploaded the photo in the album "Zomerfotowedstrijd 2018/Concours photo de l'été 2018" on our Facebook page.
– We will upload your video or photo on our Facebook page within 72 hours of your submission.
– We reserve us the right to decide the winners of the competition at our sole discretion.
– By sending a video or photo, a player automatically and implicitly agrees to its possible publication on the website, blog and Facebook page of 777.be.
– "Bonus seekers" are excluded from participating in this promotion.
– Offer is subject to 777.be's Terms and Conditions.
– 777.be reserves the right to cancel or change this promotion at any time without prior notice.