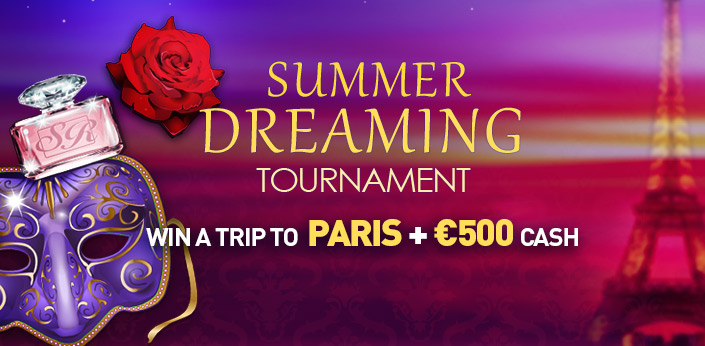 How about you prepare for the arrival of summer at 777.be this week? To help you do so, we've launched our special Summer Dreaming Tournament. So if you are in the mood for a summer romance or you're dreaming of a hot and steamy summer, then spin the reels of our slots: Secret Romance, Love Guru, Bells on Fire Hot or Burning Desire.
These games offer you romantic bonus features and sizzling free rounds. So take part by spinning either the desktop or mobile version of these slots between 13:00 on Thursday 18th May and 00:00 on Monday 29th May and win the below prizes:
1st place: A trip to Paris + €500 cash
2nd place: €200 cash
3rd place: €100 cash
4th place: €50 cash
5th place: €25 cash
6th – 10th place: €15 bonus

Don't forget – the more you spin, the better your chance of winning. Click here to see how close you are to winning the best prize!
What are you waiting for? Hurry to 777.be and make your summer dreams come true!

Conditions:
-The promotion is valid from 18/05/17, 13:00 until 29/05/17, 23:59
-To participate, players must wager cash and/or a bonus on Secret Romance, Love Guru, Bells on Fire Hot or Burning Desire.
-The scores are calculated as follows: win x 100 = score, for example: win €10 x 100 = 1,000 points. This calculation is applied every 15 minutes to the accumulation of all game transactions that have occurred during this time frame.
-A player can only participate in a tournament with one unique player account. Scores are not transferable between accounts.
-Players marked as "Bonus Seeker" are excluded from this promotion, even if they appear on the final leader board ranking.
-Prizes will be directly credited to the eligible players' accounts within 72 hours following the end of the promotion and distributed as mentioned above, according to the final ranking on the leaderboard.
-The top 5 prizes will be distributed as cash and are therefore not subject to a wagering requirement.
-The 1st place prize will be credited to the player's account as a total of €1,000 cash, not subject to any wagering requirement.
-Winners will be notified via email within 72 hours following the end of the promotion.
-Offer is subject to 777.be's Terms and Conditions.
-777.be reserves the right to cancel or change this promotion at any time without prior notice.
-777.be cannot be held responsible for any technical problems relating to the games in the tournament or the calculation of the ranking.