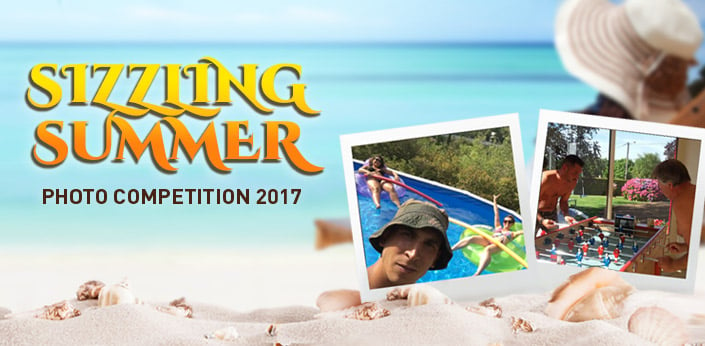 Summer has arrived and school is out, which can only mean one thing – the summer holidays are here and it's time to have some fun in the sun! This year, the team at 777.be would love to see what amazing activities you get up to over the summer. That's why we've organized the Sizzling Summer – photo competition 2017 where you can win some amazing prizes.
All you have to do is email us any fun summer holiday picture. It can be anything from you travelling to an exotic destination to BBQ-ing in your garden. And don't worry – even if your holidays haven't started yet, you can still share a photo!
Remember that you can only send us 2 types of photos to win free spins and they must belong to either one of these categories:
15 free spins for anytime summer dreaming: Share a fun holiday picture of you anywhere (even at work) this summer.
25 free spins for sizzling casino fun: Share a picture of you playing on 777.be while enjoying the summer sun anywhere.
But wait – make sure you take an extra nice photo because we're also giving away hot prizes totalling more than €800 for the top 3 photos shared in the competition. Our first place winner will go home with a brand new iPad mini 4 on which to play more of our online games. The runner up will capture all their amazing holidays with their new Canon Camera, while the third place winner gets to go away on a luxurious 3-day trip!
The competition will run from Thursday July 13th at 13:00 until Wednesday July 26th at 23:59. And you can email your summer photo now to [email protected] with the subject line "Sizzling Summer – photo competition 2017." Don't forget to mention your username and also let us know which category your photo belongs to when you send it to us.
Happy summer holidays! The team at 777.be can't wait to see your photos!

Conditions:
-Promotion is valid from 13/07/17 to 26/07/17
-When a photo is accepted, the free spins winnings will be credited to the player's account as a bonus within the following three days on: Aloha! Cluster Pays or Flowers. Players will automatically receive an email once their free spins have been credited.
-Top three Winners will be contacted directly within 72 hours following the end of the promotion and prizes will be distributed as follows:
1st place: iPad mini 4 (worth up to €489)
2nd place: Canon camcorder (worth up to €300)
3rd place: 3-day trip voucher (worth up to €140)
-The prizes will be distributed as goods or cash, not subject to a wagering requirement.
-The player must be visible on the photo received
-A player can only take part once during the promotional period.
-Players can only take part in one of the two photo categories
-Any photo not fitting within the theme of this competition will not be accepted. The same applies to offensive photos
-By sending a photo a player automatically and implicitly agrees to its possible publication on the website, blog and Facebook page of 777.be.
-"Bonus seekers" are excluded from participate in this promotion.
-Offer is subject to 777.be's Terms and Conditions.
-777.be reserves the right to cancel or change this promotion at any time without prior notice.