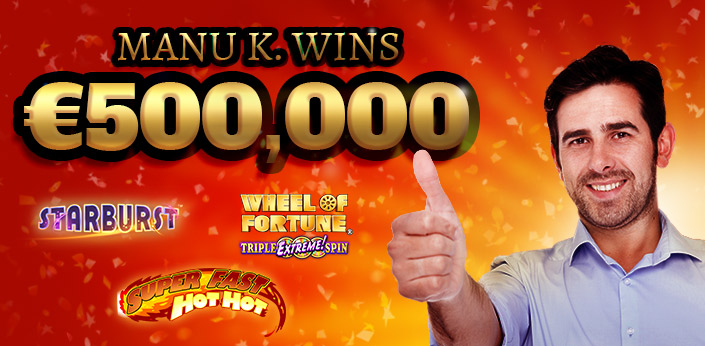 Casino777's games are not only highly entertaining, they can also lead to some spectacular wins! Manu K. from the Belgian province of Flemish Brabant experienced this first hand when he bagged an incredible half a million euros by playing our slot machines. Manu has been playing with us since December 2015, and has since deposited a few thousands euros and had a couple of big wins.
But even Manu can't quite believe his luck this time, saying: "I will only believe it once it is in my bank account!" And who can blame him? It's not every day you win €500,000.
Manu has achieved every casino player's dream. His advice is to always believe in luck. And it's certainly paid off for our player, particularly on his favourite slots Super Fast Hot Hot, Starburst and the Wheel of Fortune games.
Manu hasn't yet decided exactly how to spend his winnings: "Of course I'll give some of it to my children. I'm too busy for a holiday this year, but I will soon be driving a new car!"
On behalf of the entire 777.be team, a big congratulations to Manu on his phenomenal win!

Please note that, for privacy reasons, the image does not depict the actual winner. The winner's name was also slightly altered.