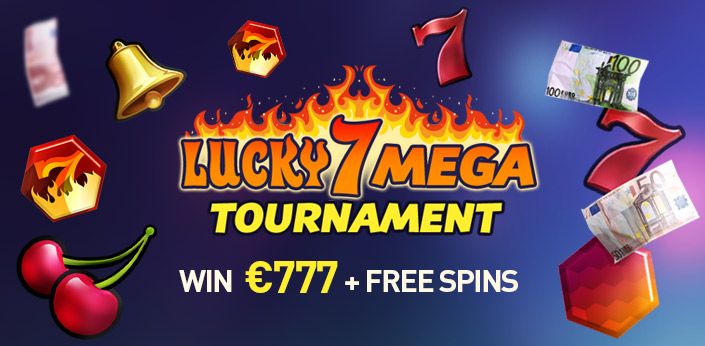 We have a great news for you today at 777.be! Our Lucky 7 Mega Tournament is back which means there are lucky prizes up to €777 in hard cash and hundreds of Free Spins to be won!

Play on Slammin 7's, 777 Diamonds, Booming Bars or Route 777 between 19:00 Friday 17th November and 23:59 and Tuesday 21st November 2017, and you could win these incredible prizes:

1st place: €777 cash
2nd place: €277 cash
3rd place: €177 cash
4th place: €77 cash
5th place: €7 cash + 77 Free Spins
6th – 10th place: 77 Free Spins
11th- 25th place: 27 Free Spins
26th- 50th place: 17 Free Spins

Hint – the more you spin, the higher your chance of winning. Click here to see your position on the leader board!
Luck is on your side, only at 777.be!

Conditions:
-The promotion is valid from 17/11/17, 19:00 until 21/11/17, 23:59
-To participate, players must wager cash and/or a bonus on Slammin 7's, 777 Diamonds, Booming Games or Route 777.
-The scores are calculated as follows: win x 100 = score, for example: win €10 x 100 = 1,000 points. This calculation is applied every 15 minutes to the accumulation of all game transactions that have occurred during this time frame.
-A player can only participate in a tournament with one unique player account. Scores are not transferable between accounts.
-Prizes will be directly credited to the eligible players' accounts within 72 hours following the end of the promotion and distributed as mentioned above, according to the final ranking on the leaderboard.
-The top 5 prizes paid in cash are not subject to a wagering requirement.
-Free spins winnings will be credited to your account as a bonus.
-Winners will be notified via email within 72 hours following the end of the promotion.
-Offer is subject to 777.be's Terms and Conditions.
-777.be reserves the right to cancel or change this promotion at any time without prior notice.
-777.be cannot be held responsible for any technical problems relating to the games in the tournament or the calculation.