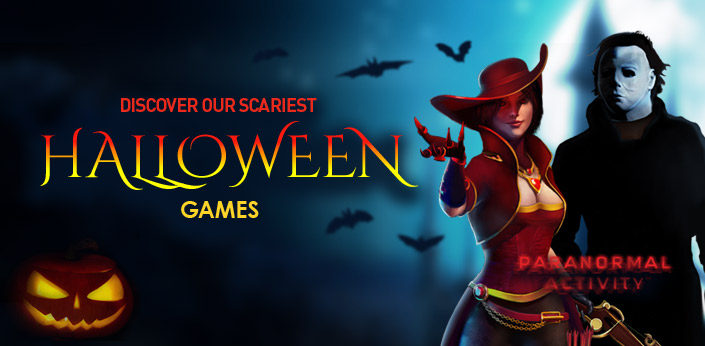 Halloween is here! Put on your masks, carve out a jack-o'-lantern or two, maybe dabble in some trick-or-treating and, of course, play a few spooky games on our online casino to grab yourself some horrifically high winnings. To help you on our way, we'll introduce you to three of our favourite Halloween online games that will make you shake in your boots (or slippers): Blood Suckers 2 by NetEnt, Halloween by MicroGaming and Paranormal Activity by iSoftBet.
So sit back, don't relax, (potentially) have a drink – avoid the red stuff for now – and prepare to be shackled to your chair by some scary adventures. Oh, and ignore the blood-curdling shrieks ringing in your ears. That's definitely not the ghost of a little girl haunting you.
The Blood Suckers 2 slot machine
The first slot we'll explore is Blood Suckers 2 by NetEnt, a sequel to the very popular Blood Suckers. In this game, you'll meet Amilia, a beautiful young vampiress in red-gleaming robes and sporting a crossbow. She is on a quest to recover the hidden treasures of her vampiric ancestors who were brutally slaughtered by vampire hunters years ago. In the mood-setting and graphically impressive cinematic that plays when you launch the game, you can see our protagonist as she reaches her ancestral castle (swooping in in bat-form, as you do) and prepares to step inside. There are many challenges in her way, including one nasty demonic guardian, but she will not be deterred. Especially not with a brave sidekick like you!
That's right, you too must step across the dark, foreboding threshold of the Blood Suckers 2 slot machine, so steel your nerves because Amilia needs your help to find the treasures! She'll reward you handsomely with massive wins if you get winning combinations.
Features in Blood Suckers 2
Blood Suckers 2 is one of our favourite Halloween online game slots and it consists of five reels, three rows and 25 pay lines on which to place your bets. Each bet can range from €0,01 to €1 per pay line with a total wager of €250 per spin. As the pay lines are fixed on 25, the smallest wager you can place is €0,25.
After selecting your wager, hit the blood-red gem to spin the reels. The highest paying symbols in the game are represented by portraits of both several regal-looking and a few quite scary vampires. Maybe they are (or were…) Amilia's relatives?
Besides them, you'll also want to be on the look-out for the Wild, Scatter and Bonus symbols to unlock Blood Rose Free Spins, the Hidden Treasures Bonus or other special features that can increase your winnings!
The Halloween slot machine
Our next online slot transports you back to the 1978 classic horror movie, Halloween, starring queen of the shrieks, Jamie Lee Curtis. You better watch your back in this one because the Boogeyman simply adores sneaking up behind his victims with a big kitchen knife clutched in his hand. If you forgot the plot: the killer, Michael Myers, escapes from a Sanatorium and kills a mechanic to steal the iconic overalls and white mask that have given so many the creeps. On Halloween, he decides to stalk Laurie Strode, a high school student. In the following events, Michael kills off Laurie's friends Annie, Bob and Lynda before launching his attack on Laurie. She, however, manages to escape.
Can you escape the Boogeyman and run away with bonuses and lots of winnings?
Features in Halloween
This slot machine by MicroGaming has five reels, four rows and fifty pay lines. Wager options range from €0,01 to €0,50, allowing for a minimum bet of €0,50 and a maximum bet of €200. Once you're ready, hit the spin button or use the auto play function that allows you to set some criteria for automatic spins. A neat little feature if you don't want to click all the time!
The highest paying symbols in this slot are pictures of four characters from the movie: Loomis, Annie, Lynda and Laurie herself. Besides them, you'll find the Boogeyman's kitchen knife, a gun, a clown mask, a phone, knitting needles and matches.
Like any slot, there's also a Wild symbol, represented by the Halloween logo, with which you can replace any other symbol in the game, except for the Scatter and Bonus. The game also contains a few interesting features and Free Spins.
The Wandering Reel randomly groups three reels that will determine the amount of pay lines and the reel that is played. If you land three of more Scatters, you will unlock the Bonus Wheel feature where you can collect cash prizes by spinning the wheel. If you land on the Boogeyman, the Boogeyman Bonus will be activated. Here, you click on leaves to reveal up to a total of ten cash prizes.
The Paranormal Activity slot machine
Our final Halloween online game is again inspired by a horror movie: Paranormal Activity. In this film, a young couple, Katie and Micah, moves into a new house. Katie has been haunted by a demonic force since childhood and Micah decides to put up a camera in their bedroom to record paranormal activity at night. To the couple's horror, a lot of weird things happen while they sleep, like flickering lights, opening and closing doors and more. As Katie and Micah get more distressed, the demon becomes stronger and stronger as it feeds off their negative energy. Once the demon is strong enough, it possesses Katie and kills Micah.
Features in Paranormal Activity
This slot has five reels, three rows and nothing short of 243 ways to win! It comes packed with three Free Spin features that contain multipliers and stacked Wilds. If you unlock the Paranormal Spins, you'll get unlimited Free Spins until you win five of them, each with a multiplier. Possessed Spins gives you ten Free Spins and during these spins, you have an increased chance to get Wilds. Finally, Demon Spins give you 15 Free Spins during which the Demon itself can appear to act as Wild and turn other symbols into Wilds as well! These features may have scary names, but they'll bring nothing but profits! Besides these three key features, this Halloween slot has a few other tricks (or treats?) up its sleeve to help you win big!
Scared yet? If not, open these games in our online casino (preferably with the lights turned off) and spin those terrifying reels to win big. Whether you're new or a veteran gambler, you'll surely enjoy these games!