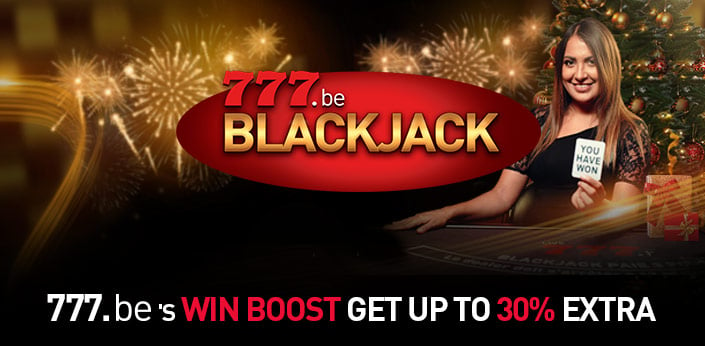 There is no better way to spend this festive season than at 777.be's own Blackjack tables. Our dealers have prepared some crazy boosted wins.
Every day between 16:00 and 20:00 until 2nd January, we will be mixing 3 bonus cards per hour and table at our own 777.be Blackjack Francophone and 777.be Blackjack Nederlandstalig. If you get dealt a booster card, it will tell you by how much we will boost your winnings that hand.
You can get as much as a 30% boost paid out as a cash bonus up to €100.
Win more at 777.be's Blackjack this festive season!

Conditions:
– This promotion is valid from 26/12/18 until 02/01/19.
– To participate in the promotion players must wager cash and/or a bonus on 777.be Blackjack Nederlandstalig or 777.be Blackjack Francophone.
– Between 16:00 and 20:00, each hour 3 bonus cards will be shuffled into the shoe of both the 777.be Blackjack Nederlandstalig and 777.be Blackjack Francophone tables.
– Players who are dealt the bonus card will receive boosted winnings with the percentage showing on the card.
– The boosted winnings are credited as a cash bonus with playthrough of 0 and will be credited within 72 hours.
– These offers are subject to 777.be's Terms and Conditions.
– 777.be reserves the right to cancel or change this promotion at any time without prior notice.