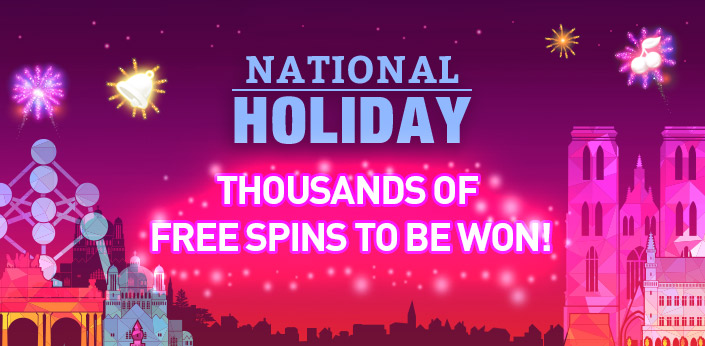 This weekend we're celebrating Belgium's National Holiday at 777.be! And to have as much fun as possible, we have organised an extraordinary National Holiday Tournament for you where you can win tons of free spins.
Play the following slots on mobile or desktop from 10:00 on Friday 21st June and 23:59 on Tuesday 25th July 2017: Starburst, Theme Park: Tickets of Fortune or King of Slots.
1st place: 250 free spins
2nd place: 150 free spins
3rd place: 100 free spins
4th place: 75 free spins
5th place: 50 free spins
6th – 10th place: 25 free spins
11th- 25th place: 10 free spins

Hint – the more you spin, the higher your chance of winning. Click here to see how close you are to cashing in some mega free spins!
But that's not all! We also have a free spins party taking place over the next 3 days. Our games have been supercharged with free spins from Friday to Sunday – just for you! Check below for more details.
Free spins party:
What better way to enjoy your National Holiday than with free spins? For 3 days we'll be releasing thousands of free spins on the desktop and mobile version of the following slot machines:
Friday 21st July, 19:00: 777 x 15 spins on Starburst
Saturday 22nd July, 16:00: 777 x 10 spins on Twin Spin
Sunday 23rd July, 18:00: 777 x 10 spins on King of Slots
Hurry – the number of free spins is limited, so don't be late for the party!
777.be wishes you a happy National Holiday and lots of fun!

Tournament Conditions:
– The promotion is valid from 21/07/17, 10:00 until 25/07/17, 23:59
– To participate, players must wager cash and/or a bonus on Starburst, Theme park: Tickets of Fortune and King of Slots.
– The scores are calculated as follows: win x 100 = score, for example: win €10 x 100 = 1,000 points. This calculation is applied every 15 minutes to the accumulation of all game transactions that have occurred during this time frame.
– A player can only participate in a tournament with one unique player account. Scores are not transferable between accounts.
– Prizes will be directly credited to the eligible players' accounts within 72 hours following the end of the promotion and distributed as mentioned above, according to the final ranking on the leaderboard.
– Free spins winnings will be credited to your account as a bonus.
– Winners will be notified via email within 72 hours following the end of the promotion.
– Offer is subject to 777.be's Terms and Conditions.
– 777.be reserves the right to cancel or change this promotion at any time without prior notice.
– 777.be cannot be held responsible for any technical problems relating to the games in the tournament or the calculation.
Free Spins Party Conditions:
– Promotion is valid from 21.07.16 until 23.07.16 on the mentioned times.
– Free spins winnings will be credited to your account as a bonus.
– Casino777 cannot guarantee the availability of free spins on any given moment
– The Term & Conditions of Casino777 apply to this promotion.